Global networking
The growth of registries around the world continued in 2019. They cooperate within the World Marrow Donor Association (WMDA), on whose board Switzerland has served since early 2019.
The success of blood stem cell donation is owed to international cooperation and to the millions of people around the world who have registered. At the end of 2019, there were 36 million people registered, an increase of about 2 million people since 2018 (33.5 million).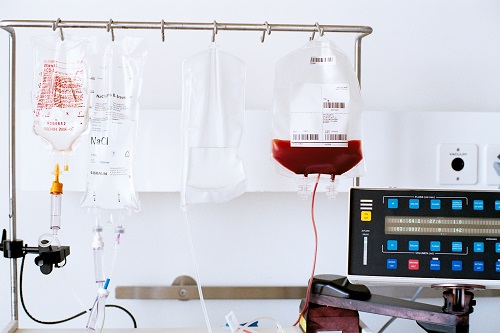 More collection procedures
The number of blood cell donations also rose. Blood stem cells were collected for transplantation to unrelated patients 18'962 times in 2018*, up to 10.5 per cent from the 2017 total of 17'162.
Almost four-fifths (14'998) of these were peripheral blood stem cell collection procedures. The other 3964 were bone marrow harvesting procedures, a number similar to those of previous years.
* Due to the complexity of data collection and evaluation, the most recent figures available are for 2018.
Global solidarity
It is thanks to international cooperation that patients, in Switzerland and around the world, have a chance of finding a suitable donor. In 2019, 155 unrelated blood stem cell transplant procedures were performed in Switzerland: in only 4 cases did the transplant material also originate in Switzerland. In total, donations came from 19 countries, with Germany providing the most, followed by the USA (25) and Poland (16), the countries with the largest registries.
The 61 blood stem cells donations and 3 cord blood donations originating in Switzerland went to Germany (14), the USA (10), France (9), Italy (4) and 14 other countries. This reflects the high diversity of the Swiss registry.
Origin of products for Swiss patients 2019
Destination of Swiss products 2019
GRID: globally unique
To ensure the safety of donors and patients, the World Marrow Donor Association (WMDA) decided to introduce a globally unique identifier for donors, known as GRID (global registration identifier for donors). The previous donor ID numbers were retained alongside the new GRID in a first phase and then fully replaced in the second phase. GRID implementation was a complex challenge for the registries, the process is still on-going at a few. The Swiss registry completed its transition to the GRID as of 1 July 2019.
Contributing as board member
The Swiss registry has held a seat on the WMDA board since 1 January 2019 and is responsible for financial matters there. Once GRID implementation is complete, WMDA wants to further improve inter-registry communications. From its seat on the board, the Swiss registry is advocating a pragmatic approach in this respect, to ensure that projects are feasible and affordable for the individual registries, which vary considerably in their resources and situations.